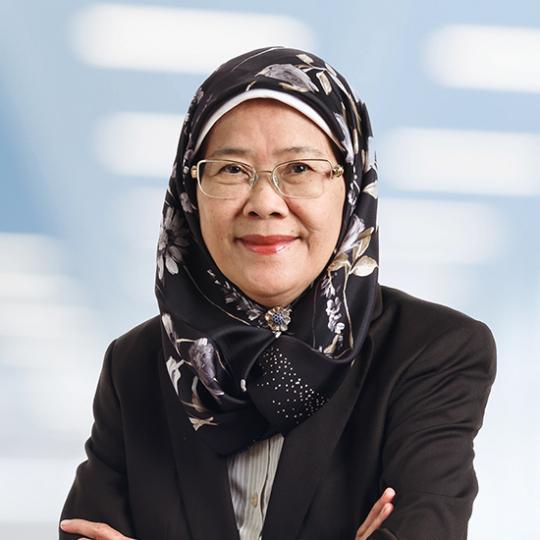 Dato' Halipah Esa
Independent Non-Executive Director
Date of Appointment
27 March 2013
Membership of Board Committee
Chairman, Board Staff Compensation and Organisation Committee
Qualification
Master of Economics degree, University of Malaya
Bachelor of Arts (Hons) degree in Economics, University of Malaya
Certificate in Economic Management, IMF Institute, Washington
Certificate in Economic Management, Kiel Institute for World Economics, Germany
Certificate in Advanced Management Programme, Adam Smith Institute, London
Working Experience/Other Directorships
Present
Director, Sime Darby Plantation Berhad
Director, KLCC Property Holdings Berhad
Director, Malaysia Marine and Heavy Engineering Holdings Berhad
Director, SP Setia Berhad
Director, The Securities Industry Dispute Resolution Centre
Past Experience
Chairman, Pengurusan Aset Air Berhad
Chairman, Cagamas SME Berhad
Director, Petroliam Nasional Berhad
Director, Employees Provident Fund
Director, Inland Revenue Board
Director, FELDA
Director, UDA Holdings Berhad
Director, NCB Holdings Berhad
Director, MISC Berhad
Director, Malaysia Deposit Insurance Corporation
Director General, Economic Planning Unit (EPU)
Deputy Secretary General, Ministry of Finance
Consultant to the World Bank and United Nations Development Programme
Director, Malaysia Maritime Academy Sdn. Bhd.
Director, Putrajaya Holdings Sdn. Bhd.